Wire Rope Cutters by MCC, Japan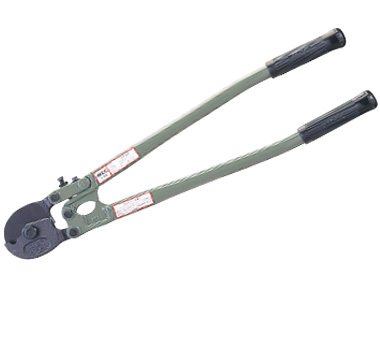 An excellent cutter for steel wire rope. Notched blade holds and locks rope in cutting position. Shearing action of blades gives clean, sharp cutting of coarse or fine stranded materials with minimum distortion. Blades interchangeable with bolt cutters.
Introducing the new small size 450mm. For the users who cut only up to 8mm wire rope, this is a great choice for handiness and portability.
Model No.
Size
mm(inch)
Max Capacity(Dia.)
1470N/mm2
Weight
Kg
Spare Blade
No.
WC-0245
450 (18")
8 mm ( 5 /16")
1.35
WCE0245
WC-0260
600 (24")
10mm ( 3 / 8")
2.30
WCE0260
WC-0275
750 (30")
14mm ( 9 /16")
3.85
WCE0275
WC-0290
900 (36")
16mm ( 5 / 8")
5.50
WCE0290
WC-0210
1050 (42")
20mm ( 3 / 4")
8.50
WCE0210
HANDY Wire rope cutters (HWC OR RC-type)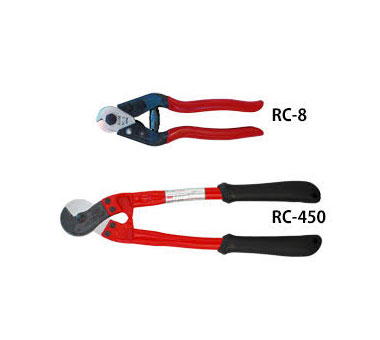 A sharp cutting tool, suitable for even the thinnest of wire ropes, which cuts cleanly without leaving behind splayed edges.
Blades are all dropforged and hardly chipped.
Good shaped grips ensures you handling the tool easily.
Item No.
Size
mm(inch)
Cutting Capacity
diameter mm
Weight
kg
RC-8(B)
200
5
0.3