Bolt, Nut, Screw & Fasteners
Simple - Only a spanner wrench required for installation.
Safe - Ideal for applications where reliability is critical.
Secure - Exceedingly high anti-loosening effect.
How the Hard Lock Nut Works:

Figure 1. - Forcing a wedge into the gap between the cylinder and its surrounding tube makes it possible to create a powerfully locked assembly.

Figure 2 - Creating matching key grooves in both the nut and bolt, and then using a hammer to drive a wedge into those grooves does provide a powerful self-locking effect. However, this method is unsatisfactory from the standpoint of operability.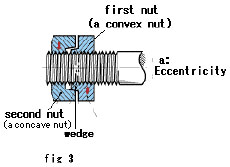 Figure 3 - The solution is to use two nuts to play the roles of the hammer and wedge respectively. A small eccentricity in the sliding part of the convex top of the lower nut acts as the wedge. When the concave upper nut is tightened, the effect produced is exactly the same as that produced by a hammer driving in a wedge. Moreover, it is much more effective to use a screw as this makes it very easy to force the wedge into place.