Ratchet Vinyl Pipe Cutters by HIT Tools, Japan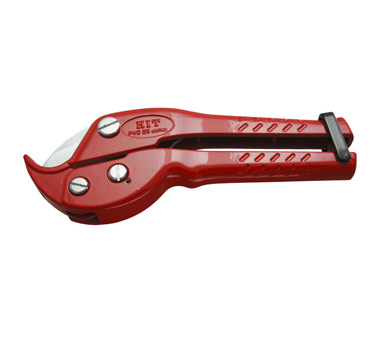 Ratchet shear permits smooth and easy operation.
Tool No.
-L-
Capacity
Max. Outside Dia.
Capacity
Type of Pipe
Weight Kgrs.
PVC 25
200
26mm
PVC Pipe and other plastic pipe
0.29
PVC 42
250
42mm
PVC Pipe and other plastic pipe
0.35
Hose Cutters by HIT Tools, Japan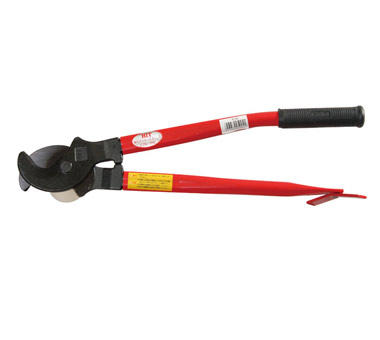 Designed for cutting re-inforced rubber hose.
Tool No.
-L-
Capacity
Hard Gas Hose
Weight Kgrs.
HC 400
400mm
9.5mm-13mm dia.
1.00
HC 500
500mm
9.5mm-25mm dia.
1.80
Plastic Pipe Cutters by MCC, Japan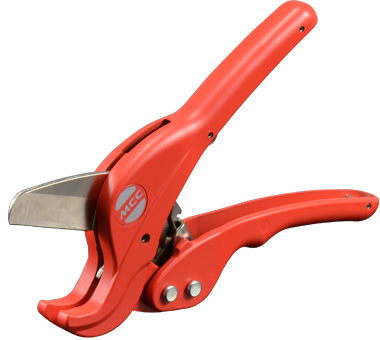 Ergonomic Handle Design gives you less stress during operation.
Quick Release Blade mechanism: It's not necessary to open the handle with both hands to release the blade.
Extreme Cutting Leverage Design: less effort & less work in operation.
Simple Blade Exchange: Only two steps to exchange the blade. Less risk to lose any parts (except VC-0363)
Compact Design: While still in a small and compact unit, the VC-0334 & 0348 still has the ability to cut larger pipe.
Model No.
Product
Code
Cutting Capacity
Pipe O.D. mm (inch)
Weight
g (lbs)
Replacement
Blade No.
VC-0327
VC-27ED
up to 27mm(1")
260 g (0.6)
VCE0327
VC-0334
VC-34ED
up to 34mm(1.1/3")
290 g (0.6)
VCE0334
VC-0342
VC-42ED
up to 42mm(1.5/8")
420 g (0.9)
VCE0342
VC-0348
VC-48ED
up to 48mm(1.7/8")
400 g (0.9)
VCE0348
VC-0363
VC-63ED
up to 63mm(2.1/2")
650 g (1.4)
VCE0363
Internal Plastic Pipe Cutters by MCC, Japan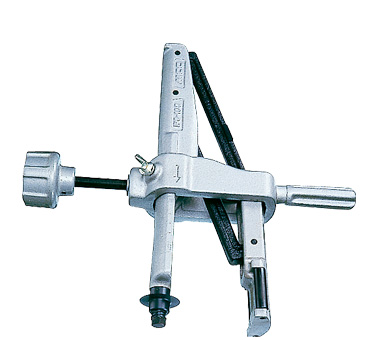 For trimming tubing below floor or above ceiling installations. No scratch on the floors. Good for PVC pipes.
Highest grade special high carbon alloy steel with special heat treatment to maximize its tensile strength for daily use on hardest material cutting such as hard chains,locks, and padlock.
The cutting edge shape is uniquely designed for hard materials cutting to withstand toughest work.
Silver color lockplate for identification.
Lighter weight, great strength on steel tubular handles on 18″ to 36″ bolt cutters.
Made in Japan
Model No.
Capacity
Outer dia.
Cutting Depth(mm)
Weight
Kg
Spare Blade
No.
From pipe end
From floor
IPC-0050
48-60mm
30-100
0-55
1.00
IPCE0050
IPC-0100
76-114mm
40-120
0-70
2.07
IPCE0100
Plastic Tubing Cutters, V-Shaped Blade by MCC, Japan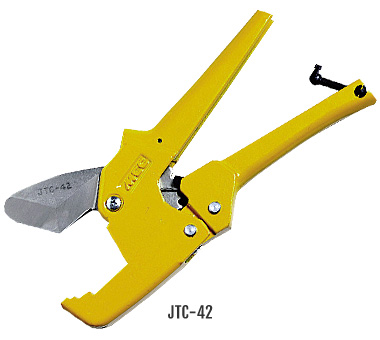 Clean cut without deformation of pipes by unique V-shape blades. Good for polybutane, polyethylene, rubber tubes and soft plastic pipes. JTC-42 can cut both sleeve pipes and inner pipes simultaneously. Palm size and light weight.
Model No.
Maximum Capacity
Outer dia.mm
Weight
Kg
Spare Blade
No.
JTC-37
37
0.22
JTCE37
JTC-42
42
0.40
JTCE42
Plastic Tubing Cutter, Single Stroke, Quick Cut by MCC, Japan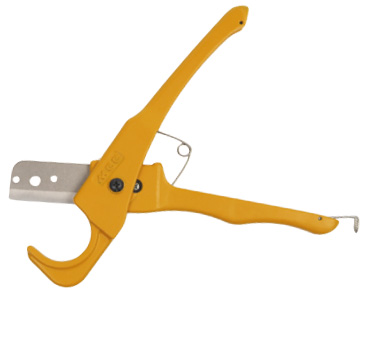 Installed a reversible blade which provides an extra spare blade.
Quick and easy continuous cutting work by spring loaded handle with long lasting aluminum handle
Model No.
Cutting Capacity
Pipe O.D.
Weight
Spare Blade
No.
JPC-37
37 mm (1.7/16")
0.15kg (0.3lbs)
JPCE37
A/C Conduit Pipe Cutter by MCC, Japan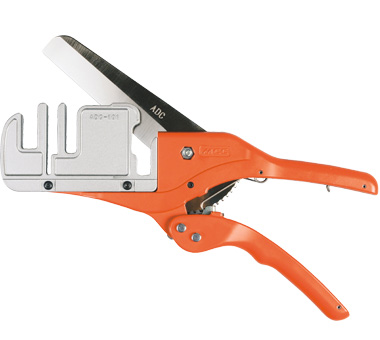 Designed for cutting ducts and covers of three sizes for air-conditioning. A cover and a duct can be cut together. (see below picture) Equipped with quick opening mechanism and safety stopper.
| Model No. | Size (mm) | Weight (kg) | Spare Blade |
| --- | --- | --- | --- |
| ADC-101 | 305 | 660 | ADCE101 |
Tubing Cutters with Ball Bearing Roller by MCC, Japan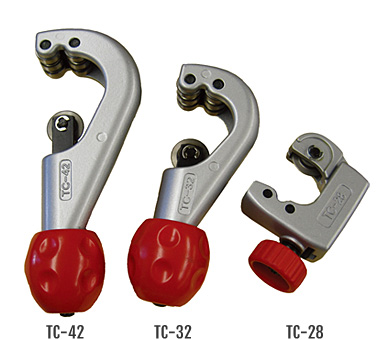 We focus on what is largely required in cutting copper and stainless steel tubes at the product design stage. Most importantly the cutting wheel must rotate straight to complete cutting. The cutter must also rotate around the pipe smoothly. For this reason, MCC installed 6 (six) individually sealed stainless steel ball bearings on the frame and 1 (one) needle bearing in the cutting wheel. This sounds like an unusual application of ball bearings; however once you take a look at the wheels of some of your carts in the warehouse, you will discover bearings on slower revolving parts such the casters where the wheels are attached. Under a high amount of weight and pressure, ball bearings are of great assistance. Tubing Cutters work in the same way. When your tubing cutters are new, you might hardly notice the difference between MCC tubing cutters and an ordinary pair of cutters that do not have a bearing installed. However, after one month of use, you will clearly notice the difference between the two cutters.
MCC Tubing Cutters are designed specifically to make clean rotational cuts; weather you are cutting Copper Tubing or Stainless Steel Tubing.
Well-designed components provide longer lasting sustainability making the cutter highly economical.
Compact & lightweight design increases your productivity.
Ergonomically designed knob reduces stress on your hands.
The heavy-duty cutting wheel with a bearing inside maximizes the durability of the cutting wheel when cutting stainless steel tubing.
Model No.
Cutting Capacity
Pipe O.D.
Weight
Kg
Spare Cutting Wheel
TC-28
28 mm (1.125")
0.15
TCE32
TC-32
32 mm (1.375")
0.31
TCE32
TC-42
42 mm (1.654")
0.41
TCE32
Tubing Cutters for Corrugated Stainless Steel Tubing by MCC, Japan
Designed for use in restricted spaces on small diameter. Light weight and durable aluminum body. Good for CSST(Corrugated Stainless Steel Tubing), Soft Copper, brass, and Plastic Tubing.
Model No.
Maximum Capacity
Weight
Kg
Spare Blade
No.
FTC-20
8-20 (5 /16"-13/16")
0.24
FTCE20A
FTC-25
8-25 (5 /16"-1")
0.27
FTCE32A
FTC-32
20-32 (1"-1.1 /4")
0.29
FTCE32A
Sleeve Pipe Cutters by MCC, Japan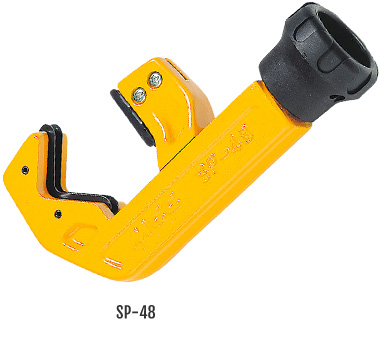 Safely cutting sleeve pipes without damaging inner tubing.
Wide range of diameter, from 19mm to 48mm.
Portable and ideal for pipe work at tight spots.
Model No.
Capacity
(outer dia.mm)
Weight
g
Spare Blade
No.
SP-37
19-36.5mm
150g
SPE37F
SP-48
19-48mm
170g
SPE48
Pipe Cutters, Heavy Duty by MCC, Japan
MCC pipe cutter is durable and tough.
The frame is made of strong special ductile iron, with wheel blades from special alloy steel that is drop forged, precision machined and heat treated.
This cutter is operated by hand or drive unit.
Model No.
Capacity
Outer Dia (US Pipe size)
Weight
Kg
Spare Blade
No.
PC-0101
13 – 40mm (1.¼")
1.5
PCE0112
PC-0102
13 – 63mm ( 2")
2.5
PCE0112
PC-0103
21 – 90mm ( 3")
3.8
PCE0103
Four Wheel Pipe Cutters by MCC, Japan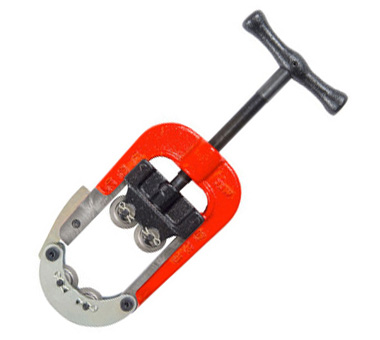 When it comes to quick and easy cut, there is nothing better than this cutter. Introducing No. 1 quick and easy steel pipe cutter for professionals around the world.
Can cut only in 25mm space.(Model PCFB-25). Designed for work in area where a complete turn is impossible such as pipe against wall or ceiling. Only 130 degree swing to make a complete cut.
Cuts stainless steel pipes with no problems.
Bearing installed at every cutter wheels for smooth operation and precision cutting preventing from spiral rotation. (Bearing available only with PCFB-50)
Easy setting by quick open-close design.
Wide range of capacity. From 21mm(Pipe OD) to 64mm can be cut by PCFB-50.
Item No.
Materials to be cut
Capacity
(Nominal Pipe Size)
Capacity
(Min OD - Max OD)
Wall thickness

Unit Weight
Bearing
PCFB-25
Steel pipe,
Stainless steel pipe
½ - 1"
21 -38 mm
(5.1mm/3.5 mm)
1.3 kg
NO
PCFB-50
½ - 2"
21 - 64 mm
(5.4mm/3.5 mm)
2.3 kg
YES